27 novembre 2009
The Art on Wheels Tour is presently in Florence where we received a warm welcome from Dr. Lawrence who is working with PIMS and the Cure2Children Foundation and has established several Bone Marrow Transplant facilities for Thalassemic children in Pakistan. We are grateful for the great hospitality Lawrence and his wife Laura have extended to the Art on Wheels Tour team.
We will arrive in Paris on Sunday 29th November at 2PM. The meeting point for those who want to welcome Foxy Shahzadi on the Champs Elysées is at the junction between Avenue des Champs Elysées, rue de Tilsitt and avenue Arsène Houssaye. Please see the red circle on the map. For queries, contact Sophie at 0659436337. Hope to see you there !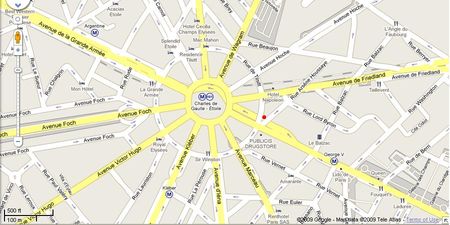 Commentaires sur Details for the Art on Wheels tour's arrival in Paris !