25 février 2010
Towards the end of our journey, just before Haroon and Salman returned to Pakistan on December 04, 2009; the team worked out the tour's finances and managed to save over 3000 Euros. On their (Salman and Haroon's) return to Pakistan, this amount was split into two and donated to Behbud Primary School and Mashal Model School.
Both schools work towards educating children with little access to formal education. As friends of both institutions, we thought that there is no better way to add to the beauty and future of Pakistan then to help educate our children, our future.
Although, the tour's contribution to these schools is hardly a drop in the ocean; it is still an effort from all four members of the Art on Wheels tour to contribute towards the progress of a society that all four of us have been and still are a part of.
20 janvier 2010
The interview and Julien's slide show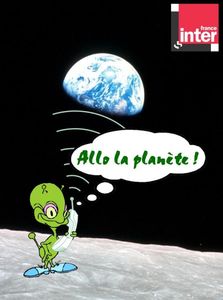 18 janvier 2010
Pakistan Press Club in Paris celebrated its 10th anniversary on tuesday 5th of January with representatives of the Pakistani community in Paris (associations, political figures and media). The Consul of France in Karachi, Mr Pierre Seillan, was present on the occasion. Awards were given for the individuals who projected positively Pakistan in France. Among them, the Art on Wheels Tour Team was presented a shield for its contribution to the promotion of truck art from Islamabad to Paris thanks to foxy Shahzadi.
11 décembre 2009
With the same enthusiasm as Behbud School at Saidpur village near Islamabad in Pakistan, children from the Fontaine School in Asnieres sur Seine near Paris met Foxy Shahzadi on December 11, 2009. The children (between 3 to 9) appreciated the car and were very keen on asking questions about where it came from, who made it and who Quaid-e-Azam and Allama Muhammad Iqbal are. "Trop belle la voiture" ("what a beautiful car" they said).
08 décembre 2009
8000 km is a long way and Foxy Shahzadi felt a little under the weather after completing the Art on Wheels tour from Islamabad to Paris. With the help of Mr Shihab and after unsuccessful attempts to have Shahzadi fixed in a Volkswagen workshop in Paris, we found a personal physician for Shahzadi: Thank you Mr Mazhar (from Cergy Pontoise) for your efforts and expertise - Foxy Shahzadi is on the road again.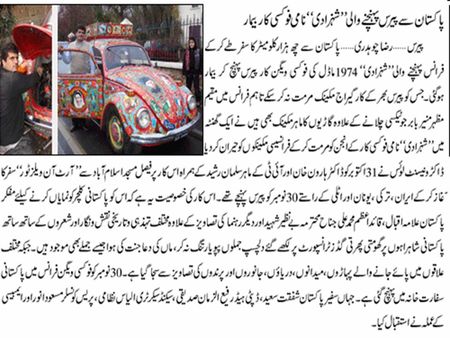 30 novembre 2009
I see trees of green, red roses too
I see them bloom for me and you
and I think to myself - what a wonderful world
I see skies of blue, clouds of white
Bright blessed days, dark sacred nights
and I think to myself - what a wonderful world
The colors of a rainbow, so pretty in the sky
are also on the faces of people going by
I see friends shaking hands, saying how do you do
The're really saying, I love you.....
and I think to myself - what a wonderful world

- Louis Armstrong "What a wonderful world" -
At 3:00 am on the morning of November 29,2009, the Art on Wheels tour along with their Shahzadi reached Paris. A journey that took the team across 6 countries, 3 in Asia and 3 in Europe reached its destination after covering a total distance of 5400 miles (approximately 8000 odd km) during the course of a month. On the morning of her arrival in Paris, Shahzadi drove around Champs Elysees followed by a warm reception by family and friends. Following this personal, rather touching reception Shahzadi was also taken to the Embassy of Pakistan in France where the tour team met with the Ambassador of Pakistan to France, Mr. Shafkat Saeed and other members of the Pakistani Embassy in France. As it was all across the distance that it covered from Islamabad to Paris - Shahzadi was appreciated and loved by the people of Paris. During the course of this journey, the members of the Art on Wheels Tour team feel that they were successful in achieving the objectives that they had set for themselves. They got ample opportunities to talk about Pakistan, make people across all 6 countries aware of the cultural and artistic potential of Pakistan as well as the fact that just like all the beautiful coun tries that the tour drove across, Pakistan too is a beautiful country with a past, a present and a prosperous future. Another highlight of the tour was the fact that this journey was a result of friendship and collaboration from two different countries located on two different continents. The Tour team would first of all like to the opportunity to thank our families in Pakistan and France, the people who helped us make this dream a reality along the way and most importantly our sponsors - without the support of whom this may not have been possible.
The Art on Wheels tour was sponsored by corporate Pakistan. Organizations that understood and supported the spirit of this journey include LMKR, Trans World Associates (Pvt) Ltd, Gadoon Textile Mills Ltd (GTML), TOTAL Parco Pakistan Limited (TPPL), Mobilink, Kings Group Apparel Industries (Pvt) Ltd and TPL Direct Insurance Ltd. Media support was given by Dawn News TV (exclusive TV media partners) and CityFM89 (exclusive radio media partners). The Art on Wheels tour and Foxy Shahzadi also enjoy the support of NGO(s) such as The Citizens Foundation, Behbud, Acid Survivor Foundation and Cure2Children Foundation.
P.S. Photographs from the last leg of the tour will be uploaded on this blog shortly.
27 novembre 2009
The Art on Wheels Tour is presently in Florence where we received a warm welcome from Dr. Lawrence who is working with PIMS and the Cure2Children Foundation and has established several Bone Marrow Transplant facilities for Thalassemic children in Pakistan. We are grateful for the great hospitality Lawrence and his wife Laura have extended to the Art on Wheels Tour team.
We will arrive in Paris on Sunday 29th November at 2PM. The meeting point for those who want to welcome Foxy Shahzadi on the Champs Elysées is at the junction between Avenue des Champs Elysées, rue de Tilsitt and avenue Arsène Houssaye. Please see the red circle on the map. For queries, contact Sophie at 0659436337. Hope to see you there !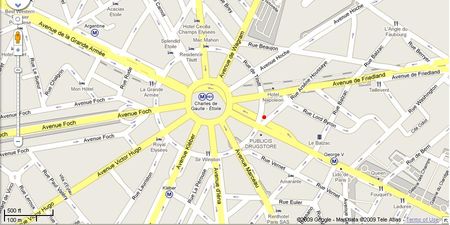 25 novembre 2009
Today we drove from Thessaloniki (our first stop in Greece) to Athina. We started out early in the morning after breakfast with the hope that we will reach Athina by 2:00 PM in the afternoon. But, as all road trips go - we finally reached Athina around 5:30 PM. The people in Greece love shahzadi's colors and the culture that it projects. While on the motor-way, a whole bunch of people gave Shahzadi the credit that it so truly deserves. Again, for the team it was a source of great pleasure. The hype did not end just there as we noticed while driving towards Athens that Shahzadi was being photographed by almost everyone who saw her.
On entering Athina, we drove towards the Piraus port where we bumped into people from the Pakistani community in Athens. This was a total coincidence and more than probably possible only due to the distinct culture that Shahzadi projects. At first sight, these guys knew what Shahzadi was all about. As evident from their expressions, the joy that they felt was beyond belief. As it turned out, we ended up going over to their house for dinner and tea. During the course of the journey we talked about everything starting from their lives in Greece to their economic contribution to the Pakistani economy and how much they miss their families and their country. The Art on Wheels team would like to thank these guys for having us over for dinner. We wish them the best of luck.
Tomorrow, we will drive Shahzadi to the Acropolis, a tour of Athens and then move towards Patras from where Shahzadi and her men will board a ferry to Italy.